The unexpected Bull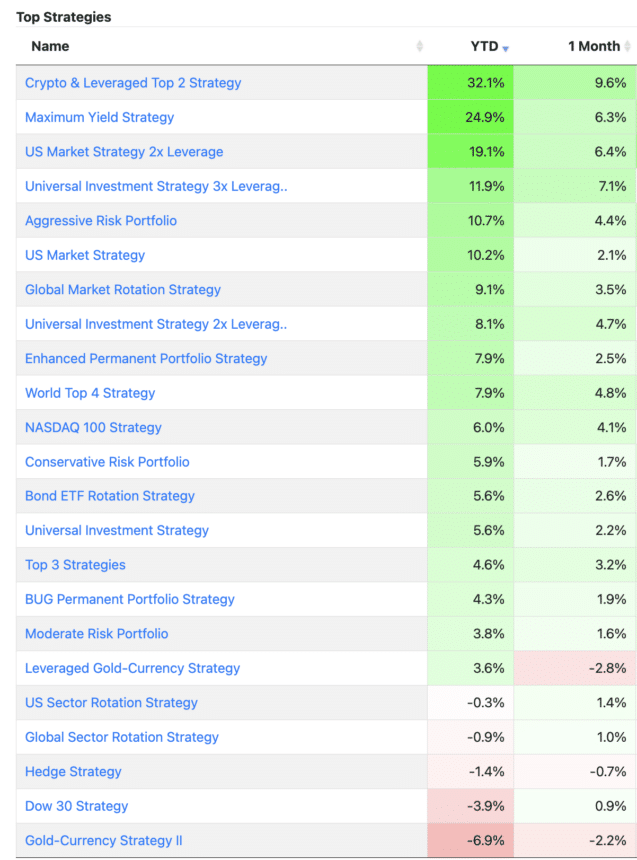 At the beginning of 2023, there was a prevailing sense of negativity as both the S&P 500 and bonds experienced significant double-digit losses. However, in our 2022 end-of-year newsletter, we argued that not only one should stay invested, they should anticipate a minimum return of 4.7%. This projection was based on the risk-free yield of a 1-year Treasury. Our average strategy return surpassed expectations, reaching 7.3%.
This unexpected bullish market appeared out of the blue, catching everyone off guard. While other major assets didn't yield as high returns, they still remained positive: Gold is up by +5.1% year-to-date, and longer-term Treasuries (TLT) increased by +4.2%.
Dive deeper into our un-hedged strategies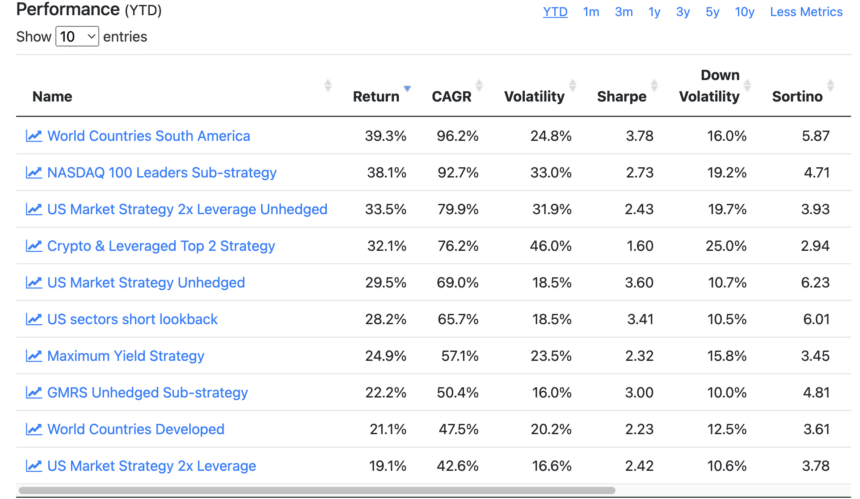 If you are not afraid to deep-dive into our sub-strategies you can access our aggressive non-hedged strategies that do best in bull markets, including the NASDAQ 100 Leaders Sub-strategy at +38.1% YTD and World Countries South America at +39%.
You can use these strategies or combine them to express your own point of view on the market while still maintaining discipline by following the model rules. For example you could be very bullish on the U.S. market as well as Asian markets while being somewhat bullish on gold and bearish on longer term bonds. But still you want to 'hedge' somewhat using gold and short term bonds. You could then combine the following strategies:
US Market Strategy Unhedged
World Countries Asia
Gold-USD Aggressive Sub-strategy
Short Term Bond Strategy
Visit the sub-strategies here.
Is a correction coming?
One should tread carefully. The main chart to look at is the spread of the 10Y to 3M Treasury which is once again at record levels. This could signal trouble ahead.
In the chart above the grey areas refer to a recession in the U.S. market at 1993, 2003, 2008 and 2020. We can see that every time the spread between the yield of the 10Y Treasury minus the yield of the 3 month bill fell below zero, a recession followed. What is interesting is that we are currently at an extreme level far below 0 that we have not seen since the 1980's. Will this be the peak or do we have a few months of further increase in the spread?
Let us know what you think in our forum.
The Logical-Invest team.