Logical Invest
Investment Outlook
November 2017
Our top 2017 investment strategies, year-to-date:
SPY, the S&P500 ETF, returned 16.68%.
Market comment:
Just like September, October was positive for the S&P 500. The index gained +2.36% continuing its multi-month rise to new highs. U.S. Treasuries did not manage to recover after last month's losses, staying almost flat at -0.04%. Gold showed weakness returning -0.75%.
Our strategies recovered quite well as they shifted weights into equity and decreased or replaced treasury positions with inflation protected notes (TIP) and convertible bonds (CWB). Our Nasdaq 100 strategy returned +7.81% for the month, while the Maximum Yield strategy added 5.94% passing the 50% return mark for 2017. Our leveraged Universal Strategy (UIS 3x) added 4.68%. Our Global Market Rotation (GMRS) and World Top 4 (WT4) strategies added 2% each.
As our subscribers may remember, we recently updated the hedging mechanism of our strategies. In an article posted on December 2016, Frank explained why we are moving into a more dynamic hedging of the equity component by allowing strategies to choose from inflation protected Treasuries (TIP) as well as other types of bonds. This was done in anticipation of possible under-performance of Treasuries due to the Fed's normalization policy. These strategy "upgrades" are now working and paying off as our Universal Investment strategy has already shifted to TIPs and our other two strategies to convertible bonds.
We are entering the traditionally best performing months of the year. Seasonally, equity markets exhibit some type of correction during the summer, followed by a volatile and often bearish September and October. Typically they end the year with strong November-December performances. This year we only had a minor correction back in August but no corrections since then. The index has risen almost in a straight line showing extremely low volatility. It remains to be seen if this is a sign of strength that will catapult the index to even higher prices or whether the market will dare break tradition and correct during these two months.
Some notable news include the re-election of Prime Minister Shinzo Abe in Japan and the re-assertion of president XI Jinping political power in China. In Europe Catalonia's vote on independence and Spain's direct rule response point to the permanent social and political problems that plague the Euro-zone. In the U.S. the Fed continues on the path started in October to slowly roll off its $4.5 trillion balance sheet which may be the cause of Treasury weakness. On the other hand it is obvious the Fed's priority is not to disrupt the bond markets so we should expect a gradual and controlled process.
As a last note, we are following the Bitcoin price action in awe as it has passed the $6,000 mark and fearless investors walk into the coming 'segwit2x' hard-fork in anticipation of a new "free money" distribution of B2X coins.
We wish you a healthy and prosperous 2017.
Logical Invest, November 1, 2017
Strategy performance overview: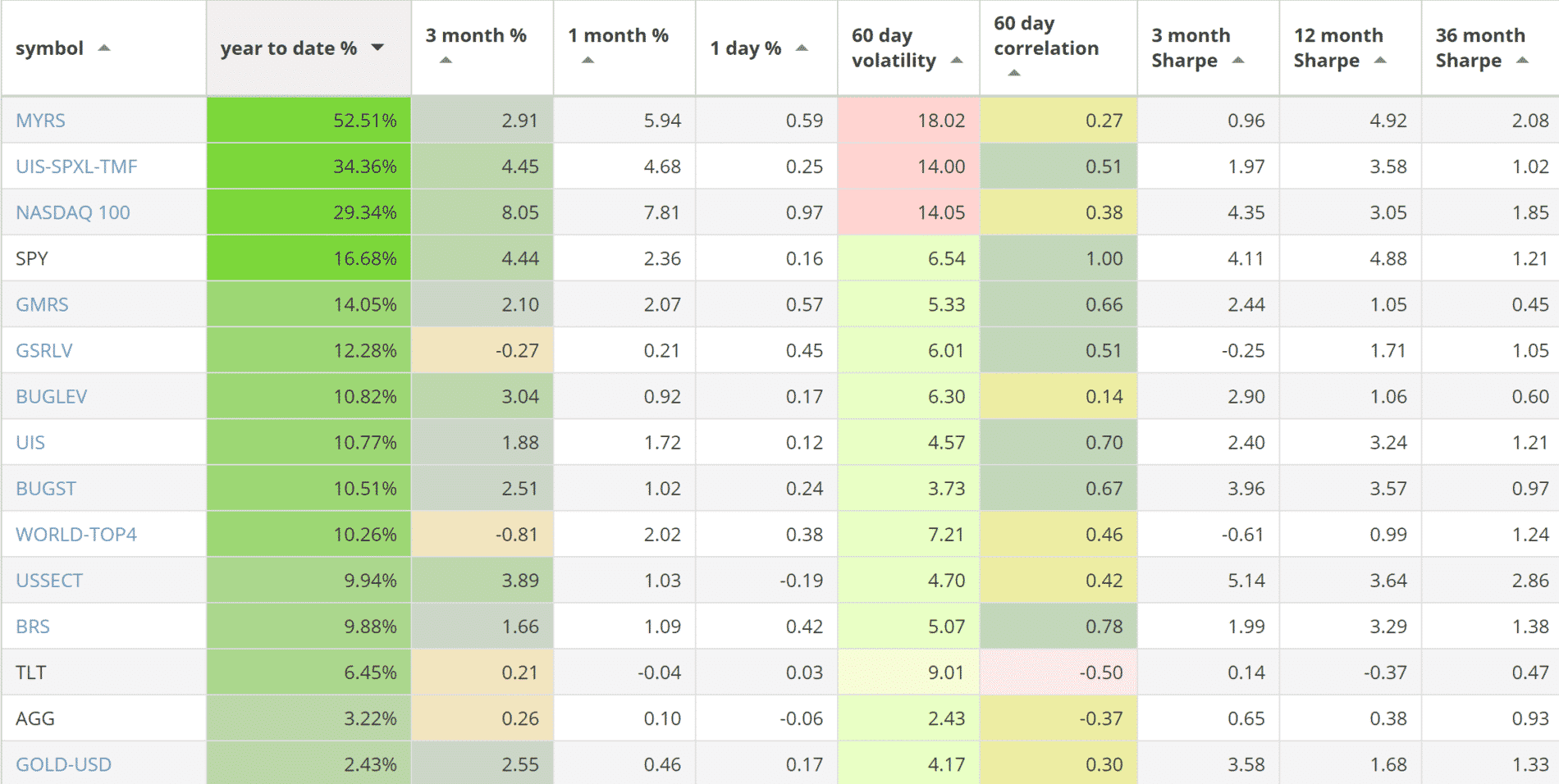 Symbols:
BRS – Bond Rotation Strategy
BUGST – A conservative Permanent Portfolio Strategy
BUGLEV – A leveraged Permanent Portfolio Strategy
GMRS – Global Market Rotation Strategy
GMRSE – Global Market Rotation Strategy Enhanced
GSRLV – Global Sector Rotation low volatility
NASDAQ100 – Nasdaq 100 strategy
WORLD-TOP4 – The Top 4 World Country Strategy
UIS – Universal Investment Strategy
UIS-SPXL-TMF – 3x leveraged Universal Investment Strategy
AGG – iShares Core Total US Bond (4-5yr)
SPY – SPDR S&P 500 Index
TLT – iShares Barclays Long-Term Trsry (15-18yr)