We have launched our new application, this page is scheduled for deletion within this year.
The SPY-TLT Universal Investment Strategy (UIS) is one of our new core investment strategies, and we're now introducing the 3x leveraged version.
Probably the most basic of all rotation strategies, is the switching strategy between the S&P 500 US stock market (SPY) and long duration Treasuries (TLT). The SPY-TLT ETF pair is very interesting, because most of the time these two ETFs profit from an inverse correlation. If there is a real stock market correction, then Treasuries like TLT have always been the assets where money flows in, rewarding holders with nice profits.
The 3x leveraged version employs SPXL and TMF
A variable allocation between stock market ETFs and Treasuries has by far the best risk/return (Sharpe) ratio. Fixed ratios do only perform well when market conditions do not change. So be sceptic if somebody will sell you a strategy with a fixed allocation which is only backtested for the last few bull market years. Normally these strategies will fail in when the next 2008 like bear market begins. The SPY-TLT rotation has a slightly higher return, but a much higher volatility or risk. Return alone should never be used to judge a strategy. In fact it is very simple to boost the return by using leveraged ETF replacements for SPY and TLT. But this would in no way make the strategy superior, because then also the volatility or risk will be higher by the leverage factor.
Research is undertaken to ensure that the diversified mix of asset classes is appropriate for the desired level of risk. Specific ETFs are screened and chosen to best represent the asset class, while also maintaining low management fees and index tracking error.
The 2 ETF used in this strategy are:
US Market (SPXL – Direxion Daily S&P 500 Bull 3X Shares ETF)
Long Duration Treasuries(TMF – Direxion Daily 30-Year Treasury Bull 3x Shares ETF)
Risk and Performance Profile
Performance:
| | | | |
| --- | --- | --- | --- |
| | 3 Months | 12 Months | Since Inception |
| Return | | | |
| CAGR | | | |
| Volatility | | | |
| DrawDown | | | |
| Sharpe | | | |
Annual Performance vs. Benchmark
Due to its simplicity and low correlation to the S&P 500, there is a continued interest in the UIS version that uses 3x leveraged ETFs: ETF SPXL (Direxion Daily S&P 500 Bull 3X Shares ETF) and TMF (Direxion Daily 30-Year Treasury Bull 3x Shares ETF). Following the suggested nomenclature by Al from AAII SV – and to honor their interest, we call this version "Hell on fire", which alludes to the high risk/return profile of the strategy. We will show ways to blend this strategy in a well-balanced and risk-optimized portfolio as to overcome the generally negative perception of private investors towards leveraged ETF.
The interested reader might ask, why a separate article for this? Why not simply use the signals of the non-leveraged strategy, but execute with the leveraged ETF? Or just use margin? We will come back to this question after introducing some methodology used in our extended backtest.
Construction of Synthetic time series for extending backtest
Due to the limited history of both SPXL and TMF we decided to extend the time series to include the 2008-2009 timeframe.
The approach we took was to determine a multiplication factor to the daily returns of SPY (TLT) which would minimize the sum of squared differences of the leveraged and non-leveraged versions. Applying the resulting factor of 2.84 (3.04) visually confirms the good fit.
Back to the question of why not apply the UIS signals to trading 3x leveraged ETF? The answer lies in the effective leverage both ETFs offer versus the base version.
While SPXL with a factor of 2.84 falls short of the 3.0 leverage target, TMF delivers a 0.28 higher leverage, and with a factor of 3.04 more than delivers the targeted leverage. We show that using the synthetic 3x leveraged time series in the algorithm results in more exact and better performing trading signals.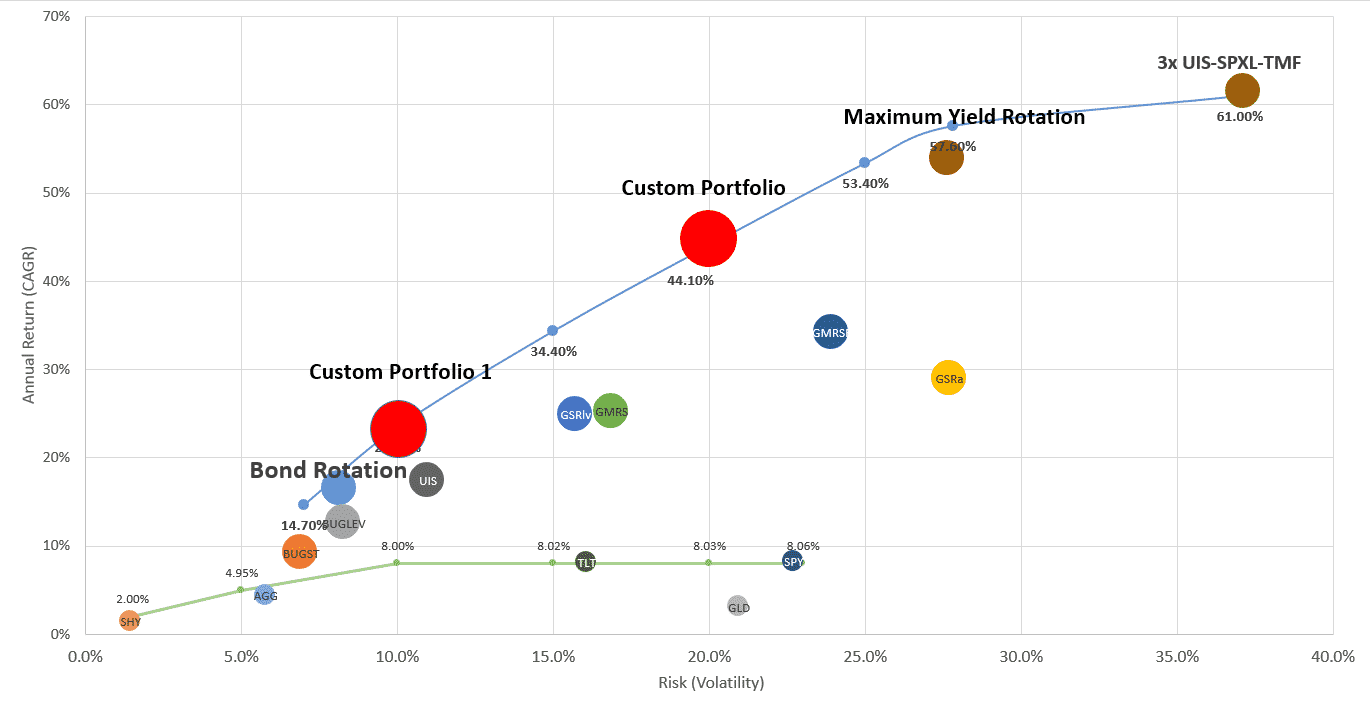 It is easy to observe how these blends of strategies deliver dramatically better results than what would ever be possible by using any combination of some common market proxies like Short and Long Term Treasuries, Bonds, US Equities and Gold we included in the plot chart.
Yet the same 'power of diversification' like in conventional asset allocation still applies: Using a blend of a Bond Rotation Strategy, an Equity Rotation Strategy, and as additional diversifier some inverse volatility and treasuries stemming from the Maximum Yield Rotation Strategy we achieve results which again drastically outperform each individual strategy performance. Using this blend of strategies also enables us to configure virtually all possible portfolios targets through our Portfolio Builder, be it constraining volatility, classically optimizing for Sharpe Ratio or setting minimum or maximum weights by asset class.
The 3x leveraged UIS signals are now available to all subscribers of the "Unversal Investment Strategy" and "All Strategies".