Special topic this month: Passive Investments
Logical Invest
Investment Outlook
September 2016
Our top year-to-date strategies:
SPY, the S&P500 ETF, returned 7.73%, year-to-date.
Market comment:
The summer market showed strength compared to its seasonal bias. The old saying "Sell in May and go away" did not hold up this year as SPY rose 5% and emerging markets jumped 8% during the summer. We are now moving into the fall season with the SPY near all time highs and the VIX index at very low levels. September and October have, historically, been good entry points for equity investors that led them to bullish end-of-year returns. This coupled with the election cycle are all market positive factors. Whether a correction materializes in the next two months is anyone's guess. Our strategies are partially hedged with treasuries and should be able to handle such a correction better than buy and hold.
In regards to strategy performance, not much changed during August. Our top two strategies remained flat, holding on to their exceptional YTD returns of 34% for MYRS and 39% for 3x UIS. Our average return of all our strategies is at 16.7%.
August's winner was the Bond Rotation strategy, adding 2%, reaching a very respectable 12% for the year. Interestingly TLT lost 1%, another example on how our BRS bond strategy is not always correlated to the long term Treasury ETF. Last month's BRS positions in emerging market credit (PCY) and U.S. high-yield (JNK) did pay off.  The worst performer was our Global Sector Rotation, loosing 3% for the month.
For September we favour our BUG strategy, the World Top 4, the Gold-USD and our stable Universal Investment Strategy.
All=Strategy subscribers can read about our new tools can help allocate across strategies.
We wish you a healthy and profitable September.
Logical Invest, August 31, 2016
Strategy performance overview: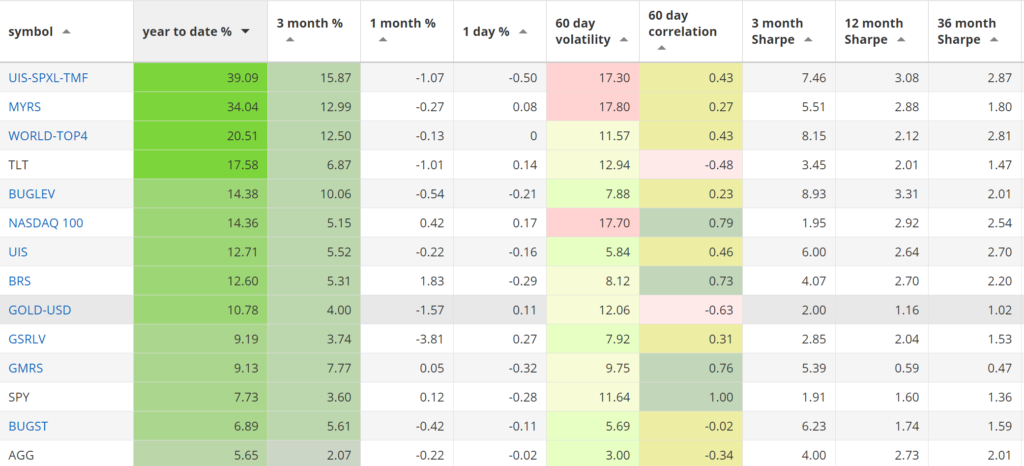 Special topic Passive Investments
Read how to apply our development backtest software QuantTrader as a DIY investor or passive investment advisor to create your own Passive Investments in just a couple of minutes. Contact us with your special requests for building your own ETF Rotation Strategy for your Passive Investments.
Symbols:
BRS – Bond Rotation Strategy
BUGST – A conservative Permanent Portfolio Strategy
BUGLEV – A leveraged Permanent Portfolio Strategy
GMRS – Global Market Rotation Strategy
GMRSE – Global Market Rotation Strategy Enhanced
GSRLV – Global Sector Rotation low volatility
NASDAQ100 – Nasdaq 100 strategy
WORLD-TOP4 – The Top 4 World Country Strategy
UIS – Universal Investment Strategy
UIS-SPXL-TMF – 3x leveraged Universal Investment Strategy
AGG – iShares Core Total US Bond (4-5yr)
SPY – SPDR S&P 500 Index
TLT – iShares Barclays Long-Term Trsry (15-18yr)