Sell in May and go away?
The SP500 fell -8.8% in April, down -13% year to date (YTD). The current chart looks scary enough to warrant a temporary rally. If not there is room below for further correction.
Should one go to cash or stay invested?
Should one adjust their portfolio and how?
Top 3 Strategy Allocations – Free preview
Below are the upcoming allocation for our Top 3 strategy. We are providing these not as investment advice but as an example of how a quantitative-based strategy would allocate given the market.
Although the strategy is 100% quantitative-based (see how we construct our strategies), it's interesting to see that allocations are somewhat intuitive and defensive (72% in gold and cash) but allowing for some upside via a 21% equity exposure.
56% of the portfolio is in GLD. Gold has been a solid performer this year (+3.5%) compared to Equities (-13%) and Treasuries (-19%). It is also a commodity and a safe heaven asset.
16% of the portfolio is in a money market fund (almost like cash).
13% is in blue chip, stable companies, namely Coca-cola, 3M, McDonalds and P&G. These are non-tech companies, selling real world consumer products.
8% in Hong Kong. 5% in Malaysia. These are more difficult allocations to intuitively understand. One has to look at our Top World 4 strategy to see how it has lost only -2.5% YTD while providing some upside equity exposure. See the chart below: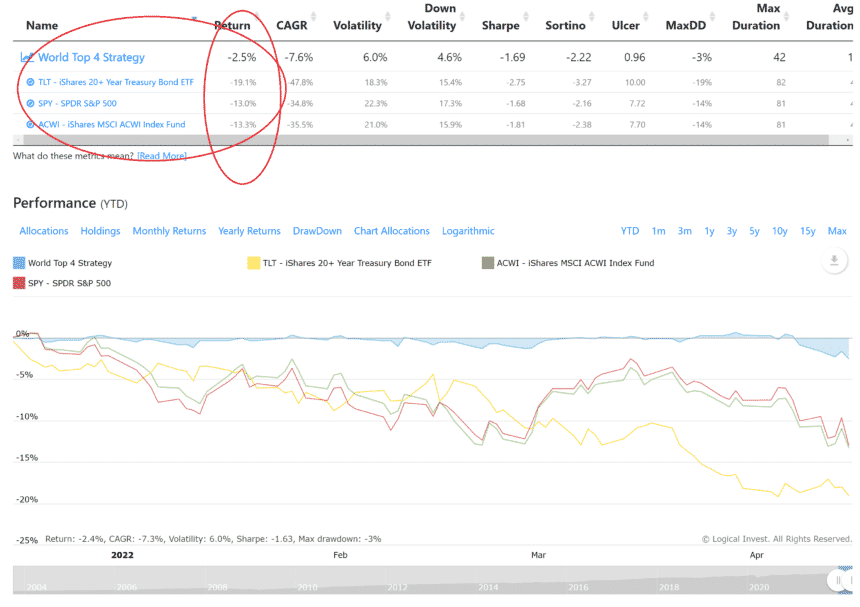 Logical Invest has many other model strategies that you can research and take ideas from.
https://logical-invest.com/app/asset_list
Challenging markets
Let's get back to the market environment.

TLT, the 30-year Treasury ETF (below) dropped -9.4% in April and is down -19.1% YTD. We are at price levels seen during the crisis 11 years ago and at a -33% draw-own from the 2020 highs.
The Euro (below) has reached the 1.05 critical level. We have not seen prices below that level since 2003.
The Yen (below), which is often perceived as a safe heaven, has dropped some 10% YTD against the USD.
The Vanguard Total Bond Market ETF has dropped 15% from it's all time highs with a quite dramatic move compared to historical ones.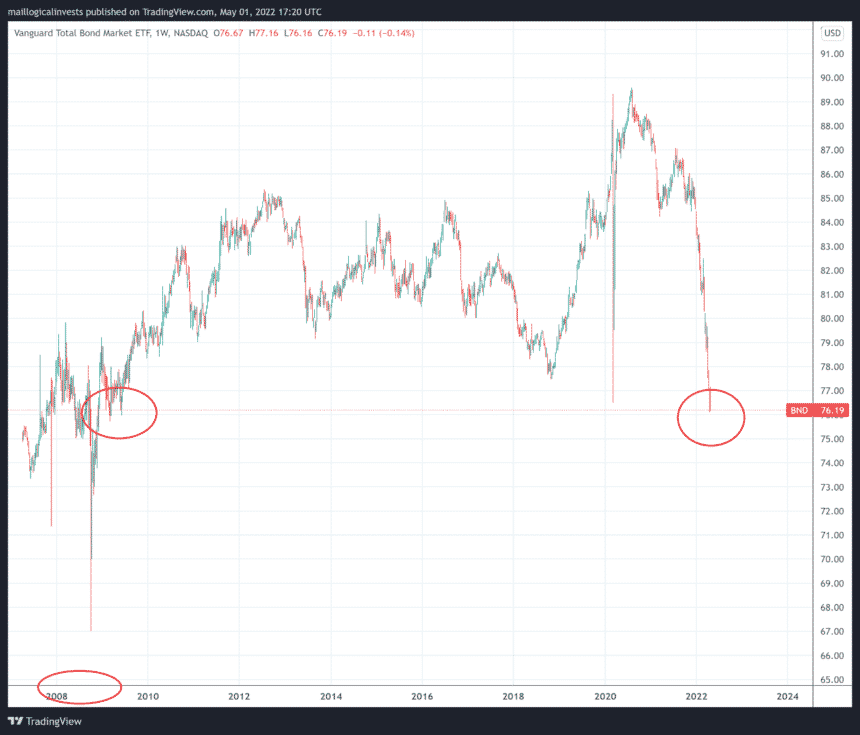 LI strategies dampen fall
All our non-leveraged strategies protected capital and lost on average 2%- 4% versus 8.8% for the SPY.
Let us know what you think in our forum.
The Logical-Invest team.