The markets have been choppy, investment performance generally also.  It is rough out there . . . currency wars and central bank interventions continue, while global growth is questioned.
Investment Performance
We are proud to work hard to help investors win the battle.   Our strategies continue to outperform with lower risk.   YTD through Jan 22, an equal weight blend of all of our strategies  performance is up +3.6%.
Thanks for your support! Here our Investment Performance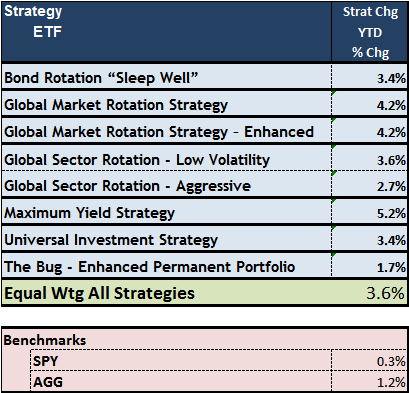 Read more about what our best performing strategy, the Bond Rotation Strategy does:
Our high yield Bond Rotation Strategy is one of our core investment strategies. The strategy invests on a monthly basis in two of four different bonds. This is the perfect strategy if you are looking for a safe long term investment and if you want to sleep well even during turbulent financial markets. The extremely low volatility (risk) of this strategy is only 7.9% which is about 3-4x less than the S&P500 volatility.
The 4 Bonds are:
CWB – SPDR Barclays Convertible Bond
JNK: SPDR Barcap High-Yield Junk Bond (4-7yr)
PCY: PowerShares Emerging Mkts Bond (7-9yr)
TLT: iShares Barclays Long-Term Trsry (15-18yr)
The strategy is a very conservative approach to maximize your portfolio return and on the same time minimize the risk of losses. During the 2008 financial crisis the S&P500 lost more than 50%. This strategy ended the year 2008 even with a solid gain of 10% compared to a loss of -36.8% for a S&P500 investment. The reward to risk ratio (Sharpe Ratio) of this Strategy is 1.58 compared to 0.27 for a S&P500 investment. Since 2008 you made 3x more money with this strategy compared to an average S&P500 investment and this with much less risk.